Interviews
>

>

Connecting Efforts to Build a Nanbyo-Friendly Society to Efforts for Building a Society That Is Friendlier to Everyone
2020.12.08

Ms. Yoshiko Arai

Representative, Nanbyo Café Omusubi
Story Behind Our Current Activities
Providing a Place to Belong for People With Intractable Diseases, Who Tend to Be Isolated
At Nanbyo Café Omusubi, I am trying to provide people with intractable diseases a place to belong, where they can come together and interact with each other. I am personally affected by two intractable diseases. When I was thirteen years old, I got the first symptom of systemic lupus erythematosus (SLE). When I was seventeen years old, I got symptoms of a disorder called idiopathic osteonecrosis of the femoral head (IONFH). I think my femur began to necrotize due to the side effect of the steroid treatment for SLE. After my diagnosis, it was a great challenge to manage my physical condition in my day-to-day life, especially after I started working. My life was a cycle of spending my days off in bed, trying to recover my physical strength, and being somehow able to make it back in to work. I lived alone and had nobody to talk to. I used to lie still in my bed and think, "What's going to happen to me?" Mentally, I felt pushed into a corner.
At the time, I wished for someone to teach me how other people with intractable diseases made their life with handling employment. However, that was before we had social networking and my feelings of social isolation only grew stronger. I had constant fear and worry that my lifestyle would crumble to pieces over the tiniest thing like I relapsed.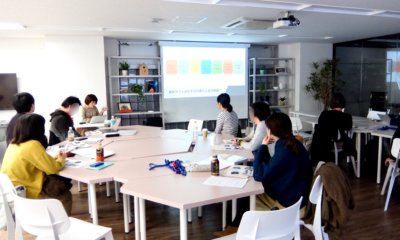 It was around that time I began thinking that it would be nice if there were a place to belong for people with intractable diseases with same concerns. I had no doubt that if there was a place for people with intractable diseases to belong, where they could enjoy their hobbies or have carefree chats on everyday topics, it would be a great source of support for them in their efforts to manage daily life with a disease. It was right around that time that I learned that Nanbyo cafés were already being held in places like Kyushu or Ibaraki prefecture.
I went to one right away and, to no surprise, I had a wonderful time. I then began dreaming of holding my own Nanbyo cafés, but my physical condition forced me to hesitate. Then, one of my friends messaged me on Facebook volunteering to help, saying "If you want to try holding a Nanbyo café, let's give it a try." It was thanks to that we were able to start Nanbyo Café Omusubi activities in February 2017.
Good Practices for Patient Empowerment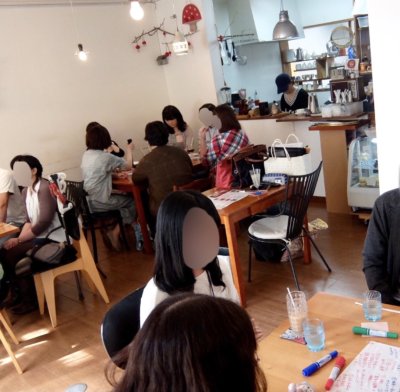 Supporting People with Intractable Diseases Facing Unease and Loneliness
We use an advanced reservation system for our Nanbyo cafés and almost every event reaches full capacity. Hearing from people who are looking forward to our events always reinforces my belief that events like ours are necessary. In our participant surveys, we have received comments like, "The welcoming atmosphere allowed me to talk about my disease with peace of mind," or "The information I received there, such as how to manage physical health, is really useful." Those sorts of comments tell me we can be their supporter, which makes me glad we started holding our events.
Something unforgettable happened at the very first Nanbyo café that now I view as my starting point. There was a woman there who listened to everyone else's stories with a bright smile on her face, but burst into tears when she began her story. Up until then, she had never been able to talk to anyone about her disease and had been living with anxiety and loneliness. That made me realize there must be a great number of people with intractable disease who are living with similar difficulties. Listening to her story reaffirmed my belief that such people need places where they can share their stories with peace of mind. Still now, the memory of that woman remains a source of energy that drives me to continue our activities.
Bringing Nanbyo Cafés Online, Lecture Activities, and Other Efforts
We are currently holding our Nanbyo café events online to help prevent the spread of COVID-19. There are various benefits to holding our events online. For example, it allows people all over the country like Kansai and Hokuriku, or people recovering from sudden health issues at home to participate. I would like to continue holding online events in the future.
As for my other activities, I accept requests for lectures to make more livable society through I share the stories at Nanbyo-café. I have been invited to Orange Cafés (which are similar events held for dementia) and university seminars where I share stories about my day job as a social worker and about my activities at Nanbyo Café Omusubi. Intractable diseases and disabilities are not always immediately obvious and people living with them may face invisible difficulties towards everyday living, so I want to broaden society's understanding of those difficulties through grassroots activities.
Finding Ways to Help People Relax and Open up
When we organize normal Nanbyo café events, we try to pick barrier-free venues that are as accessible as possible. During self-introductions, we ask participants to mention their disease, their nickname, and their favorite rice ball filling. Asking them their favorite rice ball filling instantly makes the atmosphere more relaxed.
The name "Nanybo Café Omusubi" was my suggestion. We wanted to help people build connections among each other at our cafés, so we started with the keyword "musubu" or "to tie." I also wanted to use something familiar and easy-to-remember, so it eventually became "Omusubi" or "rice ball" in my mind.
We collect the discussion theme in cafe from participants in advance. We then narrow down to five and include "free discussion" to make a total of six themes. At the event, we label sections of the venue with the numbers one through six using whiteboards or vellum boards. Participants then roll a die and join the discussion that corresponds to the number they roll. It's the same as a famous old TV program called, "Saikoro Talk" or "Dice Talk."
Because we can only hold online events right now, sometimes we have participants form groups for discussions on certain themes, and sometimes have everyone participate in a free discussion. In the future, I would like to continue holding both in-person and online events to make the most of their respective strengths while keeping a good balance between the two.
Issues Related to Operating Funds for Continued Activity
To name a few of the challenges faced by Nanbyo Café Omusubi, every member of our staff is directly affected by a disease, and everyone is balancing their participation in our activities with day jobs. There are times when they face challenges related to their physical health, so in that sense, our supporters fill highly significant roles.
Although we have applied for a public subsidy to cover operating expenses in the past, that system only provided support for one fiscal year and we were not able to apply again the following year. Currently, Omusubi has four staff members, all of whom are social workers. There are also people with intractable diseases who help us hold each of our events, but they participate as volunteers out of their desire to help. To enable them to continue our activities over the long term, I think we need to establish a system for paying them wages in the future.
Transitioning to a Society That Is Accepting Towards Various Workstyles
Topics related to work and employment come up regularly at every café. Many people have concerns like, "When I am looking for work, when is the best time to tell them about my disease?" "I can't get my coworkers to understand my disease, despite my best efforts," or "I want to work in a way that will not strain my body, such as under a short-term contract." We need understanding from society, systems that allow for workstyle diversity, and flexible workstyles to become widely accepted.
I think many people have been left with no choice but to quit their job after taking a leave of absence due to a relapse. When that happens, it makes it even harder for them to find new work because they need to manage their disease at the same time. Many people with intractable diseases have no choice but to put up with constant anxiety towards work and employment.
Expanding Nanbyo Cafés
Some people tell me they held their own Nanbyo café online after participating in a Nanbyo Café Omusubi event. There are even people who are currently making preparations to establish new Nanbyo café organizations. With our activities as a starting point, efforts are expanding gradually to establish places for people with intractable diseases to belong and to build a society in which it is easier to live. That reinforces my belief that the connections between people is important.
What Qualities Make a Good Leader?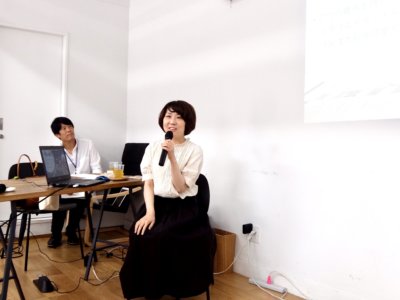 Realize What You Cannot Do on Your Own and Be Flexible and Accepting Towards Others' Opinions
Personally, I am not very reliable and could not be called a good leader. What I think through my activities so far is that I cannot continue my activities on my own. We have been able to continue our activities up until now thanks to the many people who lent their support, such as our staff, our supporters, and the people who participated in our cafés. I never allow myself to forget that I do not run our organization on my own and I want to become conscious of that fact.
Flexibility is also important. Because there are many types of people with many different ways of thinking, I do my best to incorporate those opinions in a flexible manner when their opinions differ from my own. I think it is important to avoid pushing our way forward with only our own ideas.
Future Activities
Expand Activities in Which People With Intractable Diseases Speak Out
Nanbyo Café Omusubi activities have given me many opportunities to see people energizing and empowering each other. When someone talks about their own experiences, it energizes both the person talking and the people listening. That causes various gradual rippling effects throughout society and is precisely the reason why I believe the act of speaking out holds power.
This belief grew even stronger after I participated in the pre-workshop of NCD Alliance Japan called "Our Views, Our Voices" last year. Therefore, when I give a lecture, I not only introduce the activities of Nanbyo Café Omusubi, I also try to do my best to communicate the experiences I have personally accumulated over the years.
While continuing to do that, I would like to expand our activities so that other people with intractable diseases who share our vision can also speak out with us together and share the things they have gained or learned through their firsthand experiences.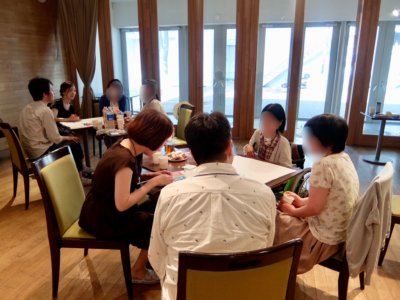 Create Permanent "Places to Belong"
Right now, we are only holding Nanbyo café events about once every month or once every several months, but someday, we want to create various, permanent "place to belong." I think it would be good if our cafés could be places where anyone could visit and have a talk, whether they have a disease or not. Sometimes, I try brainstorming various types of events, like ones where people with intractable diseases hold discussions with each other.
As someone who is affected by intractable diseases, my activities are focused on intractable diseases. However, it is my wish to create a society in which it is easier for everyone, not only people with intractable diseases, to live in a manner that is natural to them. Creating a society that is easier for people with intractable diseases to live in should result in the creation of a society in which it is easier for everyone to live. I want our future activities to continue pursuing that vision.