Interviews
>

>

Creating a better healthcare environment through a collaborative platform involving people with NCDs and other people most affected
2019.09.25

Mr. Takeshi Shukunobe

President and CEO, PPeCC (Power to the People with Chronic Conditions)
President and CEO, Patienthood
Story Behind Our Current Activities
Diagnosed with chronic nephritis at age 3, I lived in and out of the hospital from my earliest memories until age 18. Around the time of my university entrance exams, my kidney function declined, and I was put on dialysis. After graduating from university, I was hired by Sony where I worked for 14 years. Through my involvement with employee benefits and labor in the human resources department and as I met with employees who were using the long-term injury and illness leave or family care leave systems, I really began to wish that I could be of greater help to individuals struggling with illness.
I had actually wanted to become a social worker for years, but when I told my father that I was going to resign from the company where I had finally found work after years of illness-related struggle as an only child, he started crying. After that, I couldn't stop wondering whether I was failing my father as a son.
Then one day I ended up needing surgery under general anesthesia due to complications from dialysis, and I started to really think deeply about my life. I asked myself, "What sort of life will I not regret?", and I came to the conclusion that I really wanted to make a contribution to healthcare as a social worker, so I resigned. To obtain national board certification, I enrolled in a professional program. In the period prior to the program, I also found out about a class on "patient decision-making support" in Kyushu University's Department of Medicine, so I even completed multiple trips from Tokyo to Kyushu, knowing that "this is what I want to do."
After obtaining my national social worker certification, I worked part-time with the Nerima Ward Social Welfare Council, engaged in on-site consultations for a year and a half. Then in 2010, hoping to "contribute to healthcare from the standpoint of patients," I founded Patienthood. The name was chosen by my wife and relates to our current activities.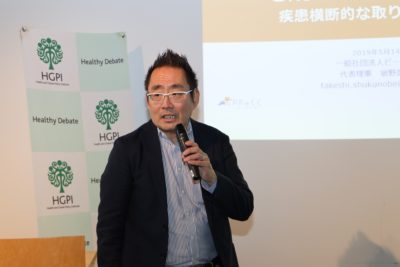 Current Activities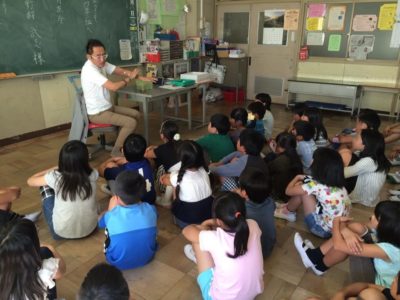 While Patienthood is also working on administrative activities such as the website "Jin-Rabo" ( https://www.jinlab.jp ) which is specific to kidney-related therapeutic areas and to which I am able to contribute as a patient, Patienthood's current activities are focused on the shared challenges faced by people from a range of therapeutic areas. We have recently expanded our network beyond the sphere of kidney-related concerns and have implemented a program to listen to stories of lived experience from a variety of therapeutic areas.
Amidst our activities, certain issues have remained. For instance, there are still gaps in the degree to which different companies value the patient voice. In fact, there are even some people in positions of power who mistakenly think that just talking with patients may violate compliance codes such as the Promotion Code. In other words, even if the phrase "for patients" is included in mission statements, some pharmaceutical companies still fail to listen to the patient voice.
Through conversations with patients, we have also become keenly aware that there are many diseases which we weren't previously aware of but which pose serious challenges including treatment. While distinct issues do exist, we have learned that many challenges such as marriage and employment are, instead, shared. We are broadening the scope of our activities to address these shared, cross-cutting challenges and have founded PPeCC in collaboration with people living with or affected by a variety of chronic conditions and rare diseases.
In the therapeutic area of kidney disease, the Japan Association of Kidney Disease Patients (JAKDP) as well as regional patient associations requested that national and regional governments make system-level improvements, resulting in the establishment of a substantial social security systems for dialysis patients. I myself developed a strong awareness of just how important it is to convey the patient voice to the government while working with a friend who was later became a member of the Diet.
One theme of our activities at PPeCC is "collaborative care," so the fact that "patient involvement in health policy" is even up for debate strikes me as strange. Despite the fact that patients and families should participate as stakeholders and be involved in the development of health policies, pharmaceuticals, and medical devices, a passive role has become the norm.
Improving the overall environment will require changes from both medical professionals as well as patients themselves. People not yet living with illnesses will also need to realize that since they too may someday become patients, there is no one for which healthcare is irrelevant.
"Patient collaboration" is an approach which involves envisioning and defending what you care and dream about, even if living with a condition, engaging with stakeholders including medical professionals and lawmakers about appropriate treatment modalities, and working together to pursue your goals. That is why people living with or affected by diseases need to clearly communicate with physicians when something important to them is under threat. Relationships need to be developed in which patients can say what they need to say.
While patients must find the strength to express their opinions, it is also essential that society becomes more supportive, and that will require education. Many discussions held on a variety of themes within the framework of NCD Alliance Japan have also come to the eventual conclusion that there is a need for education. Although some life lessons are already being taught in schools, additional efforts must be made to firmly establish an awareness of how to navigate healthcare.
Good Practices for Patient Empowerment
I think that the strength of each individual's will to live is crucial to the successful advancement of initiatives aimed at societal transformation. At our Jin-Sapo support groups, we conduct peer support activities where people recently started on dialysis and feeling overwhelmed can meet and hear from other people living with kidney disease. After sorting through and making sense of concerns at Jin-Sapo, many people are able to go home smiling again.
Jin-Sapo empowers patients to take the first steps toward problem-solving, so there are even cases where people who learn to cope with dialysis through Jin-Sapo then want to become supporters themselves and choose to attend our Peer Supporter Training Course. This represents a significant shift in terms of attitude, and I think that cycles like this which strengthen each individual's will to live are extremely important.
In other countries, peer support has already been incorporated into clinical settings, but in present-day Japan, a five-minute healthcare appointment can involve hours of waiting, leaving little time to offer emotional support to patients. That is why I think that Japan should work to make its peer support system more widespread.
What qualities make a good leader?
I feel as though I myself have yet to become a good leader. Even among patients with the same diagnosis such as chronic kidney failure, for instance, each person's individual situation is different, so when leading seminars, I always try to preface them by mentioning that I don't represent dialysis patients as a whole. I am dedicated to clearly conveying the voices of as many patients as possible, including the findings from of questionnaires conducted by Jin-Rabo. Rather than acting for my own benefit, I constantly consider how to effectively communicate the thoughts and voices of many, and I think that this should be recognized as the role of a good leader.
Future Activities
In pursuit of its namesake, "Power to the People with Chronic Conditions" (PPeCC) will continue to pursue initiatives including policy-making and employment support, in hopes of creating a society where it is considered okay to live with a condition. We have hosted PPeCC Café three times already. People living with a variety of disease are free to speak openly, meet new people, or just show up, and I would love to see it grow into a space where everyone feels at home.
In addition, I used to participate as a patient in pharmaceutical development meetings, and I was surprised to hear proposals which strayed far from our needs—the needs of the people who actually use their products. As an example, since it is important for dialysis patients to strictly manage their daily liquid intake, I would like companies to stay away from medicines taken with water. Patients could help to prevent these types of misunderstandings by getting more involved in the development process.