Interviews
>

>

A Stroke Survivor's Efforts to Share the Voices of Stroke Survivors and Their Families and Raise Awareness for Stroke Prevention
2020.11.12

Mr. Hiroyuki Kawakatsu

The Vice Chairman, The Japan Stroke Association
Story Behind His Current Activities
Mr. Kawakatsu's Cerebral Infarction
At around four o'clock on a Sunday morning in September 2004, I had a CI. There are various types of stroke. CIs occur when blood vessels in the brain become blocked, while cerebral hemorrhages or subarachnoid hemorrhages occur when a blood vessel in the brain ruptures. It has been reported that approximately 70% of all people who have strokes have CIs.
Most people do not know it, but CIs are painless. One study found that 95% of people who had CIs reported not feeling any pain. While extremely painful headaches accompany subarachnoid hemorrhages, there is no pain to signal a CI. However, a blocked artery can damage the brain and cause people to lose physical functions or the ability to speak.
Choosing to Call an Ambulance Can Make All the Difference
Because CIs are painless, many people tend to think they are fine once their symptoms subside. When I collapsed after my CI, I was able to stand back up. Seeing that, my wife said, "You're just tired, so you'll feel better if you get some rest." Going to the doctor takes time, costs money, and can be unpleasant, so I think many people tend to avoid going. This also prevents some people from calling an ambulance when experiencing the symptoms of a stroke. That key moment of judgment has significant effects on their future lifestyles. The decision to immediately call an ambulance can affect whether or not they can return to their previous level of social activity and even determine if they live or die.
In my case, my wife and children decided for me and said, "We should call an ambulance." So, I was taken to the hospital immediately. It just so happened that my stroke was not located in a critical spot. While it is slightly difficult for me to walk now, I have no serious after-effects. After I managed to complete rehabilitation, I was able to return to an active role in society a little over two months later.
Becoming a Lecturer to Share a First-Person Perspective and Expanding Activities Nationwide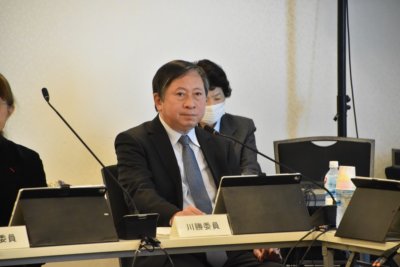 When I had a CI, I was the branch manager of an insurance company, and I was transferred to the education division at company headquarters after I recovered. My experience having a CI made me realize just how important it is to know about stroke as well as how little most people know about stroke, myself included. I thought it was necessary for more people to learn about stroke, so the first thing I did was start holding in-house study sessions to teach collages about stroke. Participants responded very positively, saying things like, "The story has more depth when it's based on firsthand experience." My study sessions grew popular and I started focusing on traveling from branch to branch around country to give lectures.
A Lack of Knowledge about Stroke Creates Hurdles to Recovery
Seeing me travel from place to place for my lectures worried some of the people around me, who asked, "Are you okay doing that after having a CI?" However, this was because they lacked knowledge about CI and misunderstood the recovery process. Even if some brain cells die due to a CI and cause a person to lose some functions, it is possible to recover those lost functions by teaching them to other brain cells. The rehabilitation process actually requires people to stay moving. If people without knowledge about stroke tell a stroke survivor, "It is dangerous, so stay still," and the stroke survivor listens, they cannot recover as easily.
My attending physician even told me, "If you don't make sure to stay moving, you won't recover, so stay active." But even then, people around me were worried. So, I asked my doctor to help by writing a medical certificate that said, "Can travel by plane" and "Can go skiing." Two months after I was discharged from the hospital, I was able to go skiing, which is one of my beloved hobbies. On the other hand, many patients atrophy more and more responding to the concerns from people around them, and eventually they can no longer do anything. It must be noted that in the case of cardiovascular diseases like myocardial infarctions, it is important for people to take things slowly to prevent strain on the heart.
Joining the Japan Stroke Association for Awareness-Building Activities and Becoming Its Vice Chairman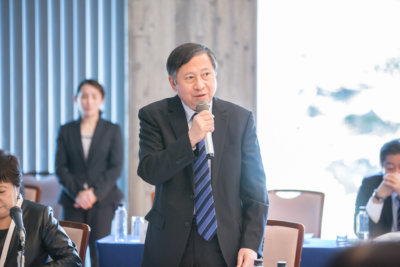 I continued holding study sessions around the country, but because I was the only lecturer, I was unable to visit every area. While it would have been nice if there were other employees who could serve as lecturers, we were unable to find anyone. After all, there were certain aspects of stroke we wanted people to hear from someone with firsthand experience. My boss at the time said, "What if we partnered with someone?" The name that came up was the Japan Stroke Association (which I will refer to as the "Association").
I immediately went to Osaka to meet with Mr. Hirofumi Nakayama at the Association and the plan moved forward. The Association and my company formed a partnership to engage in awareness-building activities, and I started giving lectures for the general public hosted by the Association. I currently serve the Association's Vice Chairman.
In the future, to realize the ideal form of patient associations, I think we should create patient associations that are flexible. For stroke, that means creating a patient association that earnestly wants people to know about stroke and is gentle towards its members by allowing each person to take part in activities in a way that meets their individual capacities. As one step towards achieving that, our Association is creating a "Speaker's Bank of People Who Have Experienced Stroke," which will gather speakers who can share their firsthand experiences with stroke, how it felt to be hospitalized, and the unique insights they obtained by completing the rehabilitation process and returning to everyday living after hospitalization.
Building Awareness among Family Doctors and Physicians in Other Fields Is Also Important
Since I started lecturing in 2005, I have given approximately 170 in-house lectures and about 160 lectures for the general public, for a total of 330 lectures. To date, those lectures have been attended by a total of 25,000 people. I think one of my crucial missions is to spread awareness among physicians who do not specialize in stroke and family doctors in communities. To that end, I have visited hospitals such as with the National Cerebral and Cardiovascular Center to give lectures to health workers such as physicians, nurses, and social workers.
Good Practices for Patient Empowerment
"Hearing your story saved my life, Mr. Kawakatsu."
I feel a strong sense of purpose when my awareness-building activities help solve problems. A few years ago, when I visited Kagoshima to give an in-house lecture, a woman approached me, said "Hearing your lecture saved my life, Mr. Kawakatsu," and told me her story.
She said it was her fourth time to attend one of my lectures, and that her story occurred after attending the previous one. After waking up one morning, her husband told her, "You are walking strange." However, she felt better shortly thereafter. She decided that her symptoms had been caused by a buildup of fatigue, and she went to work. Once she sat down in front of her computer and put both hands on the keyboard, however, her left arm suddenly dropped and she was unable to lift it.
Her symptoms were exactly as I had described in one of my lectures when I said, "If you have these sorts of symptoms, it is highly likely you are experiencing some disease of the brain." Remembering that, she wrote, "Something's wrong, call an ambulance" on a notepad and showed it to the person next to her. The person sitting next to her said that half of her face was drooping as if it were numb. She was examined at the hospital immediately, recovered, and attended another one of my lectures safe and sound and in high spirits to tell me her story. She told me that hearing my story had saved her. I have heard other stories like that and every time I hear one, it makes me feel a strong sense of purpose towards my activities.
Sharing a Story That Appeared in a Newspaper
This story was once covered in Yomiuri Shimbun's "Medical Renaissance" column. One day, a woman who was around 40 years old came to me and said, "Something is wrong with my father." Her mother told her that four or five days earlier immediately after lunch, her father suddenly lost the ability to move the left side of his body and the ability to speak, but that he was back to normal shortly thereafter. However, since there was clearly something out of the ordinary, they took a taxi to an outpatient emergency room to receive an examination.
He received an MRI at the department of neurosurgery, where the doctor told him, "There's nothing out of the ordinary. You can move your body normally, so let's wait and see how you progress." So, he went home. A few days later, the same symptoms reappeared, so they took a taxi to the hospital to have him examined at that same department of neurosurgery. Just like the first time, his numbness went away immediately, and once again, the doctor said, "Let's wait and see your progress." He went home again.
Then, their daughter, the woman who had attended one of my in-house lectures, came to me and said, "I want him to receive a proper examination, so please introduce us to a good doctor." I immediately sent an email detailing the man's symptoms to a doctor I trust, and he replied, "Those are dangerous symptoms, so send the patient to me immediately." Her father rushed to see the doctor and showed him his MRI images. Seeing them, the doctor said, "This is clearly a lacunar stroke," and immediately had him admitted. The following day, his symptoms appeared for a third time. Because he was already in the hospital and was able to receive the proper care, he is still alive and well today. It is possible that if he had experienced a stroke when he was out of the hospital, he may have been left with severe after-effects. Protecting the daily lives of patients or their families through my awareness-building activities gives me a strong sense of purpose.
Conducting the Committee for Stroke Patients and Their Families "Voices of People (Patients and Their Families) Who Have Experienced Stroke" Survey and Submitting a Report to the Ministry of Health, Labour and Welfare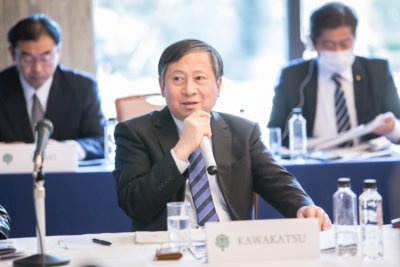 The Japan Stroke Association has conducted joint activities with the Japanese Circulation Society for Stroke and Cardiovascular Disease Control Act which came into law in December 2018. Our activities have improved awareness towards stroke within the Government. As part of those efforts, I currently serve as a member of the MHLW's Council for the Promotion of Stroke and Heart Disease and Other Cardiovascular Disease Measures.
The Association presented a report on a survey entitled the "Committee for Stroke Patients and Their Families 'Voices of People (Patients and Their Families) Who Have Experienced Stroke' Survey" (hereinafter the "report") to the Council for the Promotion of Stroke and Heart Disease and Other Cardiovascular Disease Measures as a reference material on July 1, 2020. It contained opinions on the MHLW's Stroke, Heart Disease, and Other Cardiovascular Disease Measure Promotion Plans from the perspectives of patients. When composing that report, we focused on transmitting the voices of patients and their families by directly recording their words and survey responses.
We have been receiving impressions on our report from various people, who have told us things like "Every story was heart-wrenching," "I understood that I had not truly seen the patients," or "The things I truly did not understand became clear to me." We would love for many people to read the report.
What Qualities Make a Good Leader?
A Person Who Gathers the Opinions of Many without Emphasizing Their Own Ego
When composing the report, the response section of the survey had many stories the likes of which I had never heard before. To be honest, reading them made me uncertain if it is even possible for those of us who are called "patient leaders" to fully understand the feelings of and difficulties facing every affected individual. For example, it is difficult for those of us who are not the parties directly affected by aphasia to fully understand the hardships of patients with aphasia and the family members who support them. It is exactly for this reason that we must determine the most effective method of gathering the voices of the people who are going through difficult times. I think a good leader must be able to do that.
Also, a good leader must not be the type of person who emphasizes their own ego. One of my beliefs is, "There is truth within complaint." Over the course of various meetings, I have seen that allowing participants to speak freely allows them to open up and start sharing their true feelings. I think it is important to pick up on the various truths within their stories.
Future Activities
Awareness-Building Activities through Mass Media
In the future, I would like to expand our awareness-building activities to be more versatile so that our stories can reach a wider audience among the general public. The Promotion Plans mention "use of mass media" for awareness-building efforts. The Council for the Promotion of Stroke and Heart Disease and Other Cardiovascular Disease Measures includes announcer and CI survivor Ms. Miho Ohashi as well as Fuji TV's Ms. Yoshiko Kobata, so we have been able to hold various opinion exchanges on that topic. Advancing activities to build awareness through radio and TV has the potential to effect significant changes in society. As such, I would like to use mass media to expand our educational and awareness-building activities in the future.