[Public Comment Submission] "Basic Plan for the Promotion of Cancer Control (Draft)" (February 18, 2023)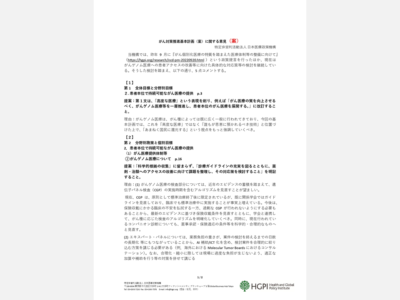 On February 18, HGPI has submitted opinions (public comments) on "Basic Plan for the Promotion of Cancer Control (Draft)"to the Health Bureau of the Ministry of Health, Labour and Welfare (MHLW).

Summary of our public comments

Recommendation 1: Genomic cancer medicine is already widely used in some types of cancer. Therefore, this should be positioned as a technology that everyone should be able to benefit from, rather than an advanced medical treatment as described in the Draft.
Recommendation 2: As for the measures to be taken in genomic cancer medicine, one should not only focus on gathering scientific evidence, but should also emphasize to enhance medical practice guidelines, and to identify the issues and consider measures to improve access to drugs and clinical trials.
Recommendation 3: Describe Decentralized Clinical Trials (DCTs) as one of the measures for prompt healthcare implementation, in order to provide patient-oriented and sustainable cancer care.
Recommendation 4: In order to strengthen human resource development as a foundation to support genome cancer medicine, one should establish and strengthen cooperative relationships among hospitals with respect to specialist personnel, in addition to developing and assigning specialist personnel within the organization respectively.
Recommendation 5: In cancer education and promotion of cancer knowledge, one should mention genome cancer medicine in addition to cancer in general.