[Event report] The 82nd Breakfast Meeting – Changes in Public Consciousness Desired by People Receiving Healthcare in the Era of Public Participation in Healthcare (December 6, 2019)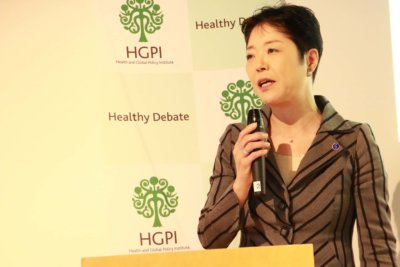 For the 82nd breakfast meeting, we welcomed Ms. Ikuko Yamaguchi, Chief Director of Consumer Organization for Medicine and Law (COML). She shared wisdom and experience gained over the course of her past activities, unraveled the history of participation in healthcare among the people receiving it, and spoke about future prospects and desirable changes to the public consciousness towards healthcare. After the lecture, discussion on this topic was deepened through a question-and-answer session together with everyone in attendance.
■Working towards cooperative healthcare involving both the people receiving healthcare and the people providing it
COML activities began in 1990 under its previous Chief Director, Ms. Yoshiko Tsujimoto. From its founding to the present day, telephone consultations for people receiving healthcare have been a pillar of COML and are the foundation of its activities. To date, over 60,000 people have shared their stories and opinions through COML telephone consultations.
In the past, healthcare was perceived by the public as something that is unilaterally provided by medical staff. To build awareness among every individual receiving healthcare, COML has continually emphasized the importance of viewing oneself as the director and custodian of one's own life and body.
The guiding principle of COML activities in achieving cooperative healthcare that involves both the people providing healthcare and the people receiving it. After all, both parties share a common goal and nothing good can come of them working against each other. This is precisely why COML believes that cooperation (in which each party supports the other and fulfills their own role in working towards the shared goal) is of the utmost importance.
Furthermore, in recent years, the number of people with multiple diseases has increased as the population has aged. At the same time, advances in science and technology have made a greater variety of treatment options available. The values held by the people receiving healthcare are diversifying, making it more difficult for healthcare providers to make absolute judgments. For this reason, one of COML's goals is to increase the number of people who can understand explanations provided by doctors, think together with doctors, and voice their own thoughts and opinions to reach a decision regarding the direction of care.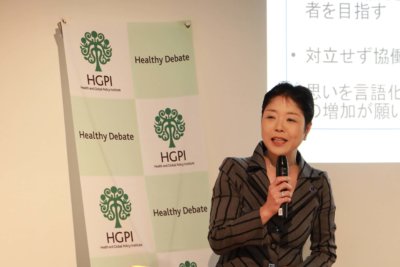 ■Enabling communication between the people receiving and providing healthcare in healthcare settings
Since 1992, COML has provided a service in which people who simulate the role of the person receiving healthcare are dispatched to classrooms teaching communication methods to medical students and staff. Also, upon request, COML's hospital examination team inspects hospitals and undergoes trial medical examinations. This team has provided improvement proposals to almost 100 hospitals nationwide. Significant changes in the environment for people receiving healthcare occurred in the 1990s. Healthcare providers began to ask the people receiving healthcare for their perspectives, even at big hospitals. Meanwhile, developments in information technology made notifications such as cancer notifications common. Because several major medical accidents occurred in 1999, that year is known as the first year of healthcare safety. Since then, the number of telephone consultations received by COML has increased dramatically.
Engaging in COML activities – particularly telephone consultations – has given Ms. Yamaguchi the strong impression that the communication skills of both healthcare providers and the people receiving healthcare must be improved. Many of the problems that occur between these two parties are rooted in information asymmetry. While the concept of informed consent has become well-known throughout Japan, Ms. Yamaguchi has the impression that many healthcare providers mistakenly believe informed consent can be achieved just by providing an explanation. However, even if a healthcare provider takes ample time to provide an explanation, it is by no means an easy feat to listen to and understand a long, highly technical explanation. It can be argued that informed consent can fully occur only when the person receiving healthcare understands the explanation and voices their own thoughts and opinions to their healthcare provider.
To achieve this, it is necessary to bridge the communication gap between these two parties so that they can achieve mutual understanding. It is growing more necessary than ever before for members of the public to understand healthcare, participate in it, and lend their cooperation. They cannot leave their healthcare totally in the hands of healthcare providers. They must become "wise patients" who can independently participate in healthcare.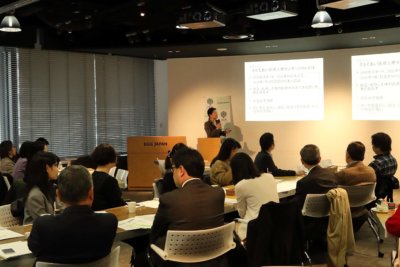 ■COML's Future Goals
In FY2009, COML began its Medical Volunteer Training Program with the goal of educating "wise patients" – members of the public who have been given a more thorough understanding of healthcare and can engage in cooperative healthcare. In FY2017, it was renamed the "Program to Train Citizens to Support Healthcare" and was made an introductory course. At the same time, an advanced course called the "Training Program for Members of Medical Committees" was created to educate members of examination committees and other various committees in the government or at healthcare institutions. Currently, it is not only recommended that members of the public are included in examination committees at the national and regional governments, but that they are also involved during the initial phases of drafting diagnostic guidelines at academic societies. One of COML's major roles in the future will be to help build the foundation for that involvement. To participate in a committee, one not only needs to have technical expertise on a topic, one must possess other skills such as grasping the flow of a meeting or knowing how to time a remark. To keep track of people who have acquired these skills, COML created the COML Committee Member Bank, a database of people who have successfully completed the two model examination committee meetings included in COML's advanced course and have agreed to be registered in the database.
Through COML's activities, Ms. Yamaguchi has been given the impression that any population falls along a normal, bell-shaped distribution curve, whether it consists of the people providing healthcare or the people receiving it. If there are some people with excellent abilities, knowledge, and temperament, there are some who cause problems due to their inability to relate to others and understand their perspectives. When people from both parties who are at the bottom of the curve interact, they often question each other and come into conflict. COML is conscious of the need to move the median of the curve even the slightest amount upward and will work towards achieving that in the future. By doing so, COML expects everyone to be pulled upwards.
Starting with her own experience receiving healthcare, Ms. Yamaguchi has faced issues in healthcare at COML for 29 years. COML turns 30 next year. Going forward, Ms. Yamaguchi wants to increase the number of "wise patients" who can make decisions for themselves, lean on the support provided by healthcare to become independent without placing excessive expectations on healthcare, and never give up.
(Photographed by: Kiyoshi Takahashi)
---
■ Profile
Ms. Ikuko Yamaguchi 
Ms. Yamaguchi is Chief Director of Consumer Organization for Medicine and Law (COML), an approved specified nonprofit organization. With her own experiences as a patient, Ms. Yamaguchi joined COML in 1992 and became the chief director in2011. Ms. Yamaguchi is responsible for all the activities of the organization, which aims to help ordinary people exert greater control over their health care and to help create better patient-doctor relations through better communication. One of the main activities of COML is to provide counseling over the telephone. In addition, Ms. Yamaguchi gives lectures and workshops for both citizens and healthcare professionals. She also takes part in meetings of medical institutions as well as local and central government councils.