[Brief Summary] Commemorating the Renewal of NCD Alliance Japan "Improving Healthcare Environments Together with People Living with or Affected by NCDs ~ Driving Social Change through Lived Experience Engagement ~" November 13, 2019
The NCD Alliance Japan held a global forum commemorating the renewal of NCD Alliance Japan under the title "Improving Healthcare Environments Together with People Living with or Affected by NCDs (Non-communicable Diseases) ~ Driving Social Change through Lived Experience Engagement ~" on 13 November 13, 2019, at Gakushikaikan in Tokyo.
The NCD Alliance is a network of over 2,000 organizations in more than 170 countries and now includes 65 national/regional NCD alliances like NCD Alliance Japan. The NCD Alliance Japan, which is facilitated by HGPI, is being renewed at this point to further promote comprehensive, cross-cutting NCD measures in several areas, aiming to be a bridging body to provide a cross-disease collaboration platform for promoting policy recommendation activities, supporting empowerment of patients and family members, and conducting qualitative and quantitative research to spread expertise outside Japan.
■Keynote Speeches
Hiroko Nishimoto, Manager of HGPI and the Secretariat of NCD Alliance Japan, gave an introductory speech on the activities and vision for NCD Alliance Japan, in which she outlined the NCD policy landscape in Japan, noting that some progress has been seen in patient participation in policy development, such as in the area of oncology where the Cancer Control Act was established in 2006, which was the first case of reflecting patient voices into policy. She emphasized the need for civil society to come together and raise their voices in response to the fact that Japan lags behind other countries in regulating tobacco, alcohol, saturated and trans fat. Ms. Nishimoto stated that the major advocacy priorities of NCD Alliance Japan are improving overall health literacy, establishing an optimum healthcare system and encouraging employment and social participation for people living with NCDs. Ms. Nishimoto stated that the renewed NCD Alliance Japan would do its utmost to support these activities.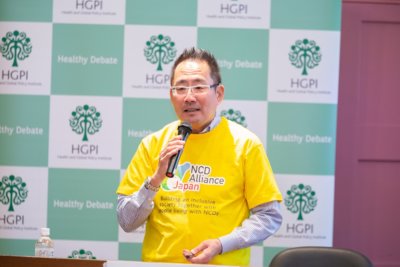 Takeshi Shukunobe, President and CEO of PPeCC (Power to the People with Chronic Conditions), delivered a keynote address entitled "Envisioning the Improvement of Healthcare Environments Together with People Living with or Affected by NCDs". Mr. Shukunobe addressed the significance and importance of cross-disease efforts as "it resolves issues quickly and efficiently when people share knowledge with each other." He also stressed the significance of "collaborative health care with patients" which is preferred rather than "patient-centered health care" in which people in all positions and occupations involved in medical care share a mutual goal and move forward together toward those goals.
Katie Dain, Chief Executive Officer of the NCD Alliance, gave a special address entitled "The Global Response to NCDs and the Meaningful Involvement of People Living with NCDs at All Levels and All Sectors" in which she highlighted that NCDs are the leading cause of death in virtually every region, and that in addition to the five modifiable risk factors for NCDs – tobacco use, harmful use of alcohol, unhealthy diet, physical inactivity, and air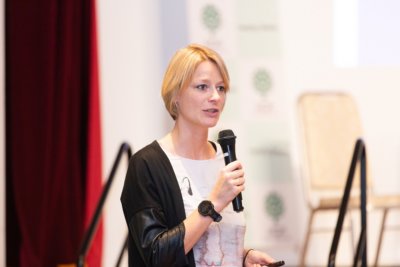 pollution – a lack of global funding and resources allocated compared to the level of disease burden is also a common driver. Although tremendous progress has been made on bring greater attention NCDs at the international level, including their inclusion in the Sustainable Development Goals (SDGs), and the launch of the World Health Organization (WHO) Global Action Plan on NCDs and a set of 'best buys' for NCDs that are known to be effective on health outcomes and provide return on investment, she highlighted concerns on progress, including a projection that half of all countries are on track to miss the targets set out in SDG3.4, and interference from big food and big alcohol employing the same tactics used by big tobacco in the past. To address these issues, strong policy leadership is required at the national and regional level, reflecting the voice of those living with NCDs, as well as the importance of civil society to play a watchdog role.
■Panel Discussion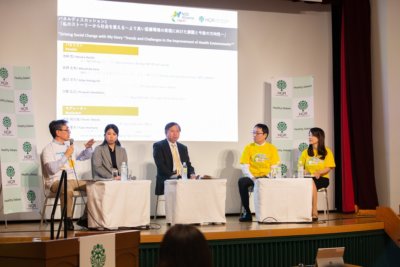 At this Global Forum, two-panel discussions were held. During the first panel entitled "Driving Social Change with My Story ~Trends and Challenges in the Improvement of Health Environments~", representatives of several patient support organizations shared personal stories of lived experience as well as NCD cross-cutting issues. During the second panel discussion entitled "Driving Social Change by Uniting Multi-stakeholders ~Trends and Challenges in the Promotion of Patient Engagement", panelists shared best practices for patient engagement and coalition building from both inside and outside Japan and addressed how best to proceed with various stakeholders in the policy-making/dissemination arena.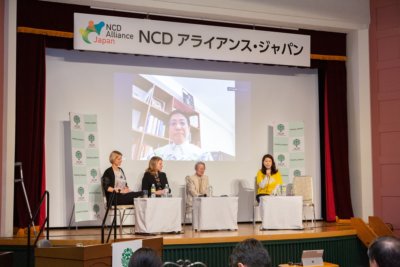 In recent years of policy planning and implementation in Japan, measures that emphasize reflecting the voices of the people living with and affected by NCDs have been born, but have not yet spread widely into the Japanese society. The need for legislation to ensure patient involvement in the policy-making process affecting health care was readdressed.