[Registration Open] (Webinar) Online Global Expert Meeting "Global Trends and Japan's Pain Policy" (November 16, 2023)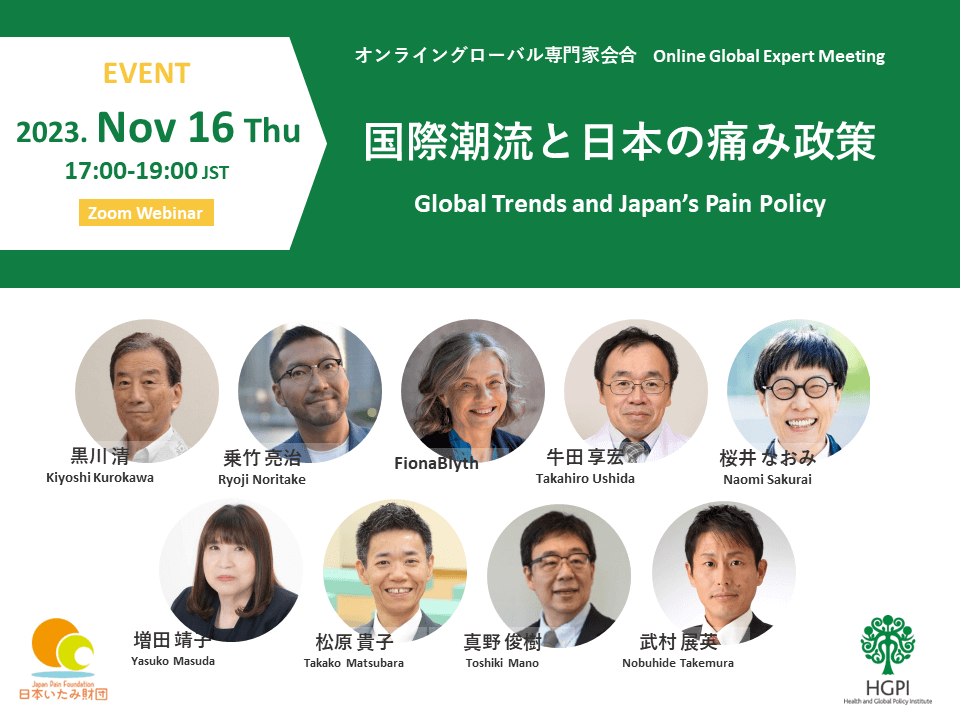 With estimates showing that 1 in 5 lives with chronic pain and loss of productivity brings huge impacts on society in Japan. Chronic pain is complex conditions and ones that is difficult to treat, it is highly evident that multi-disciplinary treatment and care is needed. With these circumstances in mind, in FY2022, Health and Global Policy Institute (HGPI) compiled a policy recommendation entitled "Achieving Equity in Multidisciplinary Pain Treatment and Support Systems for Pain Management" based on hearings with patient advocacy organizations, healthcare providers, representatives of academia in the field of chronic pain, and other stakeholders. Issues that were identified included promoting education and raising awareness toward pain; establishing systems to provide specialized, multidisciplinary pain treatment; making primary care more comprehensive to respond to the complex issues of pain; establishing evidence and evaluation systems to gauge the effectiveness of various interventions; and the direction of comprehensive policy measures that encompass these issues.
Based on these previous discussions, this expert meeting will focus on a policy framework needed to integrate wide variety of interventions. Many developed countries have formulated national strategies for pain treatment and support for pain management. The area covered by those pain strategies spans many professions, medical departments, and systems. And the topics covered include seamless collaboration across professions and medical departments and integration of health promotion, healthcare and social welfare, which have been under intense discussion in Japan for strengthen community health and primary care. This event will aim to bridge these global trends and domestic discussions to further promote chronic pain policies in Japan with emphasizing the process of the policy formulation.
[Event Overview]
Date & Time: Thursday, November 16, 2023; from 17:00 to 19:00 JST
Format: Online (Zoom webinar)
Language: Japanese and English, with simultaneous
Participation fee: Free
Host: Health and Global Policy Institute
Co-host: Japan Pain Foundation
Sponsor: National Graduate Institute for Policy Studies (GRIPS) Global Health Innovation Policy Program (GHIPP)
[Programme] (tentative, times are in JST (GMT+9))
17:00-17:05

Opening Remarks and Event Overview

Kiyoshi Kurokawa (Chairman, Health and Global Policy Institute)
Ryoji Noritake (CEO, Board Member, Health and Global Policy Institute)
17:05-17:25
Keynote Lecture 1 "Chronic Pain Management in Japan: Current Challenges and Prospects"
Takahiro Ushida (Director and Professor, Multidisciplinary Pain Center and Institute of Physical Fitness, Sports Medicine and Rehabilitation, Aichi Medical University)
17:25-17:45
Keynote Lecture 2 "Global Trend of Pain Management and Pain Policy"
Fiona Blyth (Professor of Public Health and Pain Medicine, Sydney School of Public Health, Faculty of Medicine and Health, University of Sydney)
17:50-18:50
Panel Discussion "Chronic Pain Policy Needed for Strengthening Supportive Healthcare"
Panelist:

Takahiro Ushida (Director and Professor, Multidisciplinary Pain Center and Institute of Physical Fitness, Sports Medicine and Rehabilitation, Aichi Medical University)
Toshiki Mano (Professor, Chuo Graduate School of Strategic Management, Chuo University)
Takako Matsubara (Professor, Graduate School of Rehabilitation, Kobe Gakuin University)
Fiona Blyth (Professor of Public Health and Pain Medicine, Sydney School of Public Health, Faculty of Medicine and Health, University of Sydney)
Yasuko Masuda (National Patient and Family Group for Spinal Ligament Ossification)
Naomi Sakurai (President, Cancer Solutions Co., Ltd)

18:50-19:00
Closing Remarks
Nobuhide Takemura (Member, House of Representatives; Director, Parliamentary Group for Chronic Pain)