[Registration Open] (Webinar) The First NCD Alliance Japan Seminar for People Living with Non-communicable Diseases – The Significance of Reflecting the Voices of Patients and Other Healthcare Beneficiaries in Policy (December 7, 2021)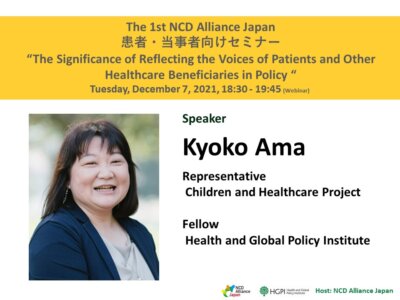 As one of our platform's initiatives for encouraging healthcare beneficiaries and all members of the public to participate in policy creation, NCD Alliance Japan (Secretariat: Health and Global Policy Institute (HGPI)) will host a seminar for patients and other interested parties titled, "The Significance of Reflecting the Voices of Patients and Other Healthcare Beneficiaries in Policy."
In recent years, there has been a growing need for participation from patients and the people close to them in the healthcare policy formulation process. As such, there has been a substantial increase in situations in which these parties have been able to serve as committee members and speak at committees and at review meetings hosted by the national Government (such as the Ministry of Health, Labour and Welfare) or local governments. This type of involvement is called Patient and Public Involvement (PPI) and is recognized internationally as an essential element for achieving patient- and citizen-driven healthcare policy.
However, after participating in these committees and review meetings, many patients and patient representatives have given comments like, "I could not speak up proactively," or "I could not express my opinion." In light of these circumstances, NCD Alliance Japan will host three seminars this fiscal year where attendees will be able to learn about the significance of PPI, hear good examples of participation, and obtain the knowledge and skills necessary to take part in such meetings with the goal of achieving PPI as originally envisioned.
Our upcoming seminars will feature speakers who have participated in many committees and review meetings as patient representatives, who are working to broadcast their voices to society based on their lived experiences as patients, and who are actively pursuing the enactment of laws that will achieve patient- and citizen-centered healthcare. Attendees will be able to listen to firsthand stories of efforts from people with broad experience in PPI, hear about best practices and challenges encountered during PPI activities, and share perspectives needed for advocates to raise their voices in the future.
The December seminar will serve as the kick-off event for this series. There, we will host Ms. Kyoko Ama for a lecture to be titled, "The Significance of Reflecting the Voices of Patients and Other Healthcare Beneficiaries in Policy." Ms. Ama serves as the representative of the Children and Healthcare Project and as an HGPI Fellow and she will be sharing impressions from her own experiences in PPI and best practices and challenges in PPI.
NCD Alliance Japan is preparing to host a total of six seminars for alliance members in the coming fiscal year which will include lectures, workshops, study tours, and presentations on issues. At those seminars, we would like to provide the basic knowledge on healthcare and policy needed to engage in PPI and create opportunities for participants to connect with each other. We would like this first seminar to be an opportunity for patients and other affected parties who currently serve or are planning to serve on committees and at review meetings to share their doubts and concerns so we can incorporate their views in our platform for achieving better PPI. We hope this seminar will be a good opportunity for people affected by these issues to expand their connections and for disseminating PPI throughout society. We sincerely look forward to seeing many of you there.
Speaker:
Kyoko Ama (Representative, Children and Healthcare Project)
Date and time:
Tuesday, December 7, 2021; from 18:30 to 19:45 JST
Format:
Online webinar using the Zoom conferencing system
First seminar program:
 18:30 – 18:35: Opening remarks
  Yuko Imamura (Manager, HGPI)
 18:35 – 19:15: Lecture: "The Significance of Reflecting the Voices of Patients and Other Healthcare Beneficiaries in Policy" (Tentative title)
  Kyoko Ama (Representative, Children and Healthcare Project)
 19:15 – 19:40: Question and answer session
 19:40 – 19:45: Closing remarks
  Ryoji Noritake (CEO and Board Member, HGPI)

Target audience:
For this seminar, we would like to invite anyone who
Is currently participating in the policy formation process
Wants to participate in policy making in the future
Wants to make their voice heard in policy making, but is unsure how to do so
Is interested in healthcare policy, whether living with a disease or not
Participation fee:
Free
Languages:
Japanese only
Capacity:
100 people
Hosted by:
NCD Alliance Japan (Secretariat, Health and Global Policy Institute)
---

■Speaker Profile
Ms. Kyoko Ama (Representative, Children and Healthcare Project / Fellow, Health and Global Policy Institute)
Ms. Kyoko Ama was born in Tokyo in 1974. After graduating from a junior college in Tokyo, she completed a Japanese language teacher training course and worked as a Japanese language teacher at Universiti Malaysia Sarawak. After returning to Japan, she joined the SOCIETY for Promotion of Japanese Diplomacy, an auxiliary organization of the Japanese Ministry of Foreign Affairs. There, she was involved in activities related to international exchange and cooperation. She then began operating a restaurant with her husband. In April 2007, Ms. Ama established "Shiro! Shoni Iryo Mamoro! Kodomo-tachi" association with the goal of improving the state of care for infants and young children by disseminating information on child and infant care to parents and guardians. The association became a general incorporated association called "Shiro Shoni Iryo Mamoro Kodomo-tachi" in July 2012. It conducted 160 lectures to over 6,000 parents and guardians of infants and young children and began giving corporate seminars and lectures on parenting at OB-GYNs in 2018. It was dissolved on April 30, 2020. Ms. Ama also teaches childcare and childrearing as a part-time lecturer in a non-degree graduate program on early childhood education at Tokyo Rissho Junior College. She is the mother of three children.
Her other positions include Member, Roundtable on Promoting the Effective Use of Healthcare, Ministry of Health, Labour and Welfare (MHLW); Member, Study Group on the Ideal Healthcare System for Emergencies and Disasters, MHLW; Member, Study Group on Emergency Medical Services, Fire and Disaster Management Agency, Ministry of Internal Affairs and Communications (MIC); Member, Advisory Committee on Emergency Medical Services, Tokyo Fire Department; Member, Council on Pediatric Care, Tokyo Metropolitan Government; and Member, Council for Promoting Public Awareness for Antimicrobial Resistance (AMR) Countermeasures, Cabinet Secretariat. In addition to serving on many committees in the past.
---
■Introducing NCD Alliance and NCD Alliance Japan
NCD Alliance was launched in 2009 by four international federations: The International Diabetes Federation, the International Union Against Cancer, the World Heart Foundation, and the International Union Against Tuberculosis and Lung Disease. NCD Alliance is a collaborative platform for the fight against NCDs that currently consists of about 2,000 civil society and academic groups in around 170 countries with the mission of eliminating preventable suffering, disability, and death caused by NCDs. Since 2013, NCD Alliance Japan has served as the Japanese branch of NCD Alliance and has provided forums for holding multi-stakeholder discussions and for promoting the importance of civil society's role in the fight against NCDs.
Registration(Additional):
To register for the NCD alliance member, please click here