[Registration Open] (Webinar) Introduction to the Our Views, Our Voices Workshop – An Initiative by PLWNCDs, for PLWNCDs (April 26, 2021)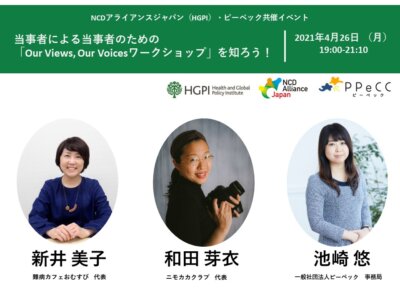 In recent years, there has been a growing need for patient involvement in the healthcare policy-making process. On the other hand, there are concerns that patient voices are not being properly reflected and that patients lack opportunities to learn about advocacy.
In light of this situation, NCD Alliance Japan (with administrative support from HGPI) and PPeCC have planned and held a Japanese version of the Our Views, Our Voices Workshop since 2019 with the aim of strengthening the advocacy skills of patients. This workshop was established by the voices of people living with non-communicable diseases (PLWNCDs) from all around the world. The workshop consists of various programs to learn basic knowledge about healthcare and NCDs, and to learn how to effectively communicate their experiences and strategically solve issues on behalf of the people affected.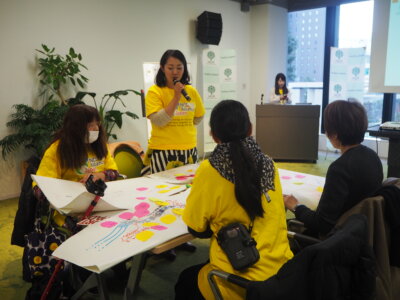 The NCD Alliance Japan, which collaborates with various stakeholders representing various diseases to conduct policy advocacy and research, and PPeCC, which supports people with illnesses, have collaborated to hold the Japanese version of the "Our Views, Our Voices Workshop" to empower PLWNCDs.
Throughout the event, we will provide an overview of the workshop, the significance of the voices of PLWNCDs, and the importance of making connections with patients regardless of their disease. We will also uplift the voices of the workshop participants. We look forward to seeing you there!
■This event is open to PLWNDs, as well as their families and caregivers, who fit one or more of the following conditions:

Those with a specific issue (policy issue) that they want to solve.

Those who want to learn how to add strategy and operationalize their thoughts and speak logically.
Those who are currently involved with patient groups or associations and want to learn how to solve issues systematically.
Those who are interested in policy advocacy.
Those who are interested in the activities of Our Views, Our Voices or NCD Alliance Japan.

■Registration
Register Here (Japanese only)
■Date
Monday, April 26, 2021 from 19:00-21:10
■Program:
| | |
| --- | --- |
| 19:00 | Opening |
| 19:00-19:40 | Our Views, Our Voices Workshop Introduction and Demonstration |
| 19:40-20:00 | Participant Voices |
| 20:00-20:05 | Break |
| 20:05-20:20 | Q&A Session |
| 20:20-21:30 | Closing Remarks |
| 20:30-20:35 | Break (Move to Meeting Room for Social Mixer) |
| 20:35-21:10 | Social Mixer (Voluntary Participation) |
| 21:10 | End of Program |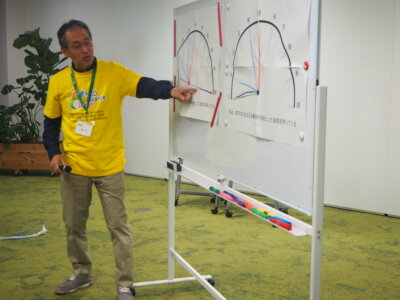 ■Speakers (alphabetical order):
Haruka Ikezaki (PPeCC/RDing Fukuoka)
Mei Wada (Nimokaka Club)
Yoshiko Arai (Nan Café Omusubi)
■Venue:
Zoom Webinar
*A social mixer will be held after the workshop
■Participation Fee:
Free
■Language:
Japanese
■Participant Capacity:
80
■Organizers:
Organizer: Health and Global Policy Initiative (NCD Alliance Japan Secretariat)
Co-organizer: PPeCC
■NCD Alliance and NCD Alliance Japan
NCD Alliance was launched in 2009 by four international federations: The International Diabetes Federation, the International Union Against Cancer, the World Heart Foundation, and the International Union Against Tuberculosis and Lung Disease. NCD Alliance is a collaborative platform for the fight against NCDs that currently consists of about 2,000 civil society and academic groups in 170 countries, with a mission to eliminate preventable suffering, disability and death caused by NCDs. Since 2013, NCD Alliance Japan has acted as the Japanese branch of NCD Alliance and has been providing a forum for multi-stakeholder discussions and promoting the importance of civil society's role in the fight against NCDs.
■Our Views, Our Voices (OVOV) Workshop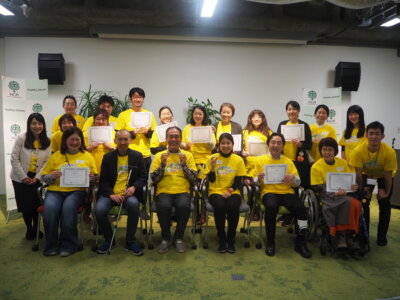 The Our Views, Our Voices Workshop is a workshop conducted by the NCD Alliance for PLWNCDs to strengthen their advocacy capacity. The workshop is designed to deepen the understanding of the current situation surrounding NCDs, issues and policies related to NCDs from a global perspective, and to learn through group work and practice how to disseminate their experiences, as well as develop strategic methods for more impactful advocacy efforts. In 2018, training workshops were conducted for the representatives of NCD Alliance in each country with the hopes of expanding the program. The event has been held in Japan since 2019 (the 2020 workshop was cancelled due to the COVID-19 pandemic).